One minute read.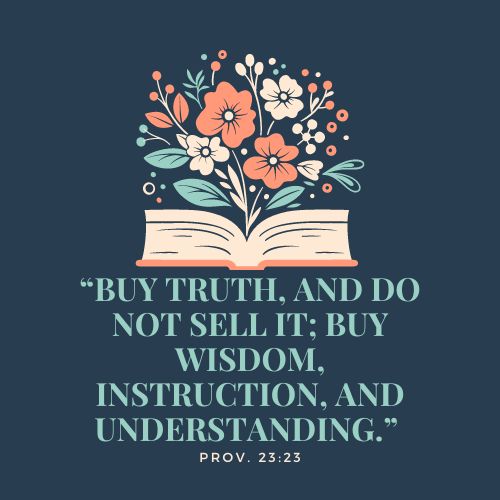 Daily Reading: Isaiah 33:10-36:22, Galatians 5:13-26, Psalm 64:1-10, Proverbs 23:23
Daily Verse: "Buy truth, and do not sell it; buy wisdom, instruction, and understanding." Prov. 23:23
Buy truth.
Acquiring truth, wisdom, instruction, and understanding pleases God. When I returned to school for my master's degree, I paid to learn the truth. Attending Regent University, a Christian education leader, I earned a diploma in Strategic Communication.
Becoming a better communicator taught me how to share the gospel through social media. Now, I use my education to help people develop closer relationships with the Lord and show them how to share it with others to the best of my ability.
In addition to my graduate degree, I continue to take writing classes to help me become a better writer. Last spring, I took a fiction writing class, which stretched me; I struggled to create stories when I worked so hard to focus on the truth. Yet, the course helped improve my writing.
Finding ways to increase our knowledge of the truth helps us build God's kingdom by applying what we learn to share the good news of Christ's love and sacrifice.
Lord, help us grow in our knowledge of the truth daily. Let us apply what we learn to increasing Your kingdom. With each day You give us, may we honor and glorify You in all we say and do. IJNIP. Amen