One minute read.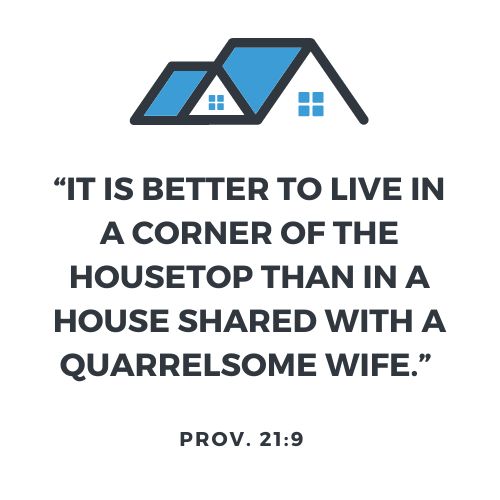 Daily Reading: Nehemiah 5:14-7:73, 1 Corinthians 8:1-13. Psalm 33:1-11, Proverbs 21:8-10
Daily Verse: "It is better to live in a corner of the housetop than in a house shared with a quarrelsome wife." Prov. 21:9
Peaceful family.
No one wants to live in a quarrelsome environment with people fighting. Giving a tennis lesson recently, after hearing kids playing loudly, my young student told me about the screaming they hear from their neighbor's house regularly.
"They called the cops on their daughter one night; yeah, it's really bad."
Homes full of strife tend to overflow into the neighborhood around them. Creating a peaceful environment takes work. My mom made her home welcoming to all; she taught me to do the same. Maintaining an orderly household and keeping things neat pleases Ron and makes him want to come home after a long day's work.
Create a welcoming environment, and people will come. But if constant arguing and strife fill a household, no one wants to enter it. Peaceful families keep the Lord at their center, following His commandments to develop a refuge for those living there.
Promote peace today, don't allow quarreling to push people away.
Lord, thank You for guiding us to develop a peaceful household for our families. Help us promote peace, not only in our homes but also in the world around us. Give us the words to say that will welcome people into our homes and Your Kingdom. IJNIP. Amen