One minute read.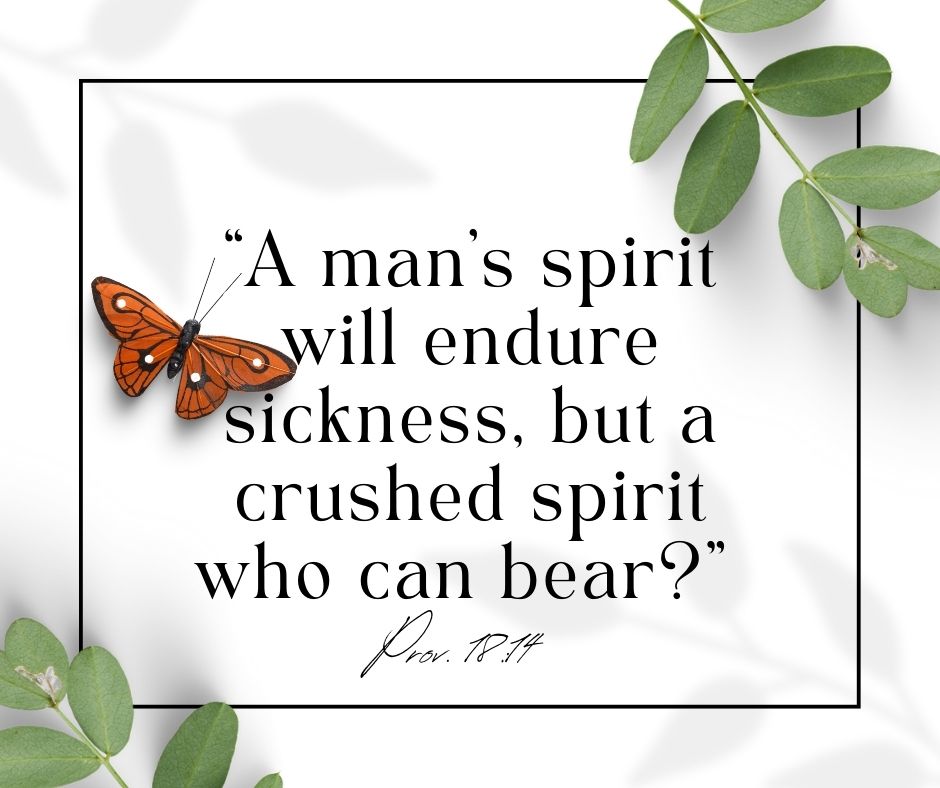 Daily Reading: 1 Chronicles 1:1-2:17, Acts 23:11-35, Psalm 3:1-8, Proverbs 18:14-15
Daily Verse: "A man's spirit will endure sickness, but a crushed spirit who can bear?" Prov. 18:14
Healthy spirit.
Depression sucks the life out of a person, and they may not realize their suffering from it. After my hospital stay in the spring of 2023, I suffered from depression; my husband pointed it out to me.
Having an unexpected, life-threatening issue and surgery traumatized me. I went from teaching a tennis lesson to lying in a hospital bed for four days. Once the doctor removed the blood clot and I recovered, I felt fine. But my mind couldn't keep up with my body's trauma, and I sunk into a depression as I struggled with mortality and the fragility of life.
My spirit needed time to process the events, and when Ron pointed out my depression, through therapy and medication, I worked through it.
The National Institute of Health estimates that 21 million adults struggle with depression. Get help; you can overcome depression with proper care. God wants us to live life to the fullest, giving us the tools to do so.
Revitalize your spirit through God's word.  Seek professional help if necessary.  Develop a healthy spirit by seeking help if needed.
Lord, I pray for those struggling with depression today.  Help them find assistance for their crushed spirits.  Lead them on the path of healing as they follow You.  IJNIP. Amen