One minute read.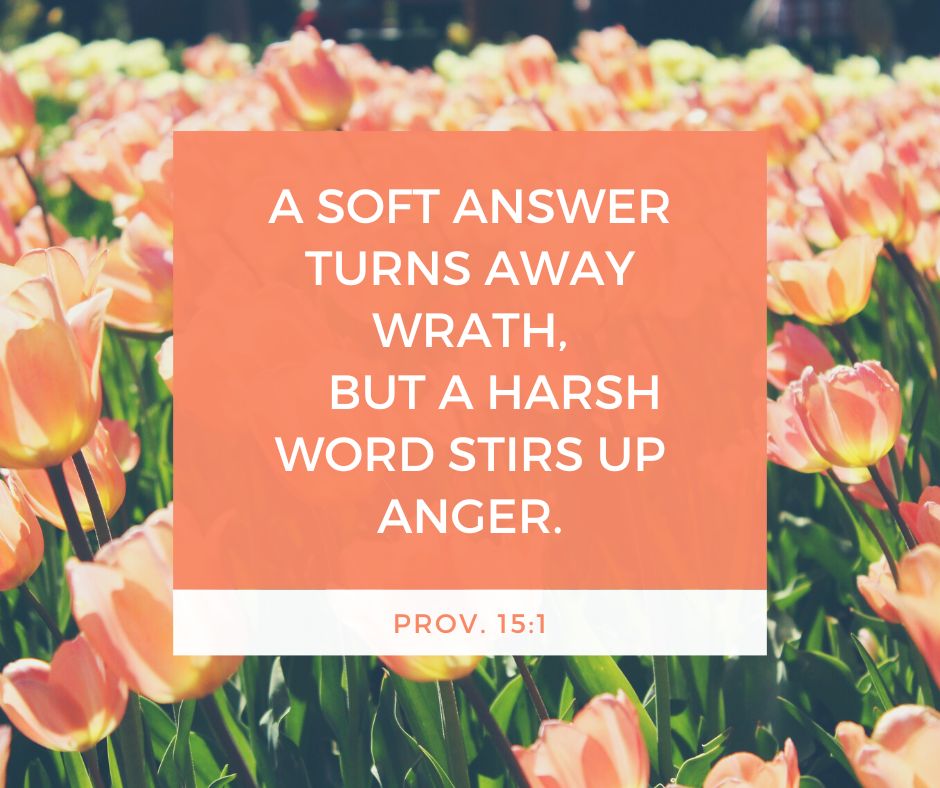 Daily Reading: 1 Samuel 10:1-11:15, John 6:43-71, Psalm 107:1-43, Proverbs 15:1-3
Daily Verse: "A soft answer turns away wrath, but a harsh word stirs up anger." Prov. 15:1
Gentle answers calm.
When in a tense situation, we choose our response. Each of us has the capability of controlling our thoughts and actions. A recent reel from Joyce Meyer made me stop and think. We can't use negative experiences from our past as an excuse to respond poorly. God gives us the power, through Him, to react differently.
Accessing the Holy Spirit within us allows us to respond with a gentle answer. Remembering what Jesus did for us on the cross helps us have grace for others. Using harsh words causes pain, but responding gently reflects Christ and calms the situation.
If we want a gentle reply ready, we must stay connected to the vine. Only by developing our relationships with God will we respond with soft words consistently. 
Anger comes naturally to me, a programmed response. But letting Jesus lead helps me respond differently, leading with grace instead of harshness. Following Christ changes us, helping us become more like Him as we put into practice His teachings.
Respond gently and turn away wrath with kind words.
Lord, forgive us for our harsh words. As we follow Jesus, change us and help us become more like Him.  Let us become masters of responding softly, turning away wrath, and restoring relationships with love. Guide and direct our words as only You can. IJNIP. Amen